You know what, just like you, I have started my shop on Etsy just a few weeks ago, and I found that many new Etsy sellers are struggling with Etsy SEO.  It's quite obvious that many Etsy sellers don't know much about SEO as many of them never dealt with Google or any other search engines like Bing, Yahoo, and so on. Luckily I am working on the Internet for the last 5 years and have many websites in different niches like Reiki, affiliate marketing, SEO, and of course of printable wall art.  So I have a basic understanding of how SEO works, I no mean an SEO expert.  But I think I can help you to get ranked on Etsy.  I hope it will help all the new Etsy sellers.
Like all of you, I have joined related Etsy groups, and through the discussion thread, I found many new sellers want someone to look at their shop and give them some feedback.  I am trying to give my two cents and thus learning myself a few things about Etsy & its algorithm.

Today I am going to have a look at Etsy shop BrixandLuna, which is all about digital templates, organizers, and planners. Stephy from Canada is the owner of this shop and she is on Etsy since 2017.  I think she deserves more sales, so let's find out how we can give her shop more visibility and thus more sales hopefully.
I am going to choose one of the listings from her shop, because if your individual listings are perfectly SEOed then the shop itself gets ranked. So you need to work on every listing of your shop.
Meal Prep Bundle from Brix and Luna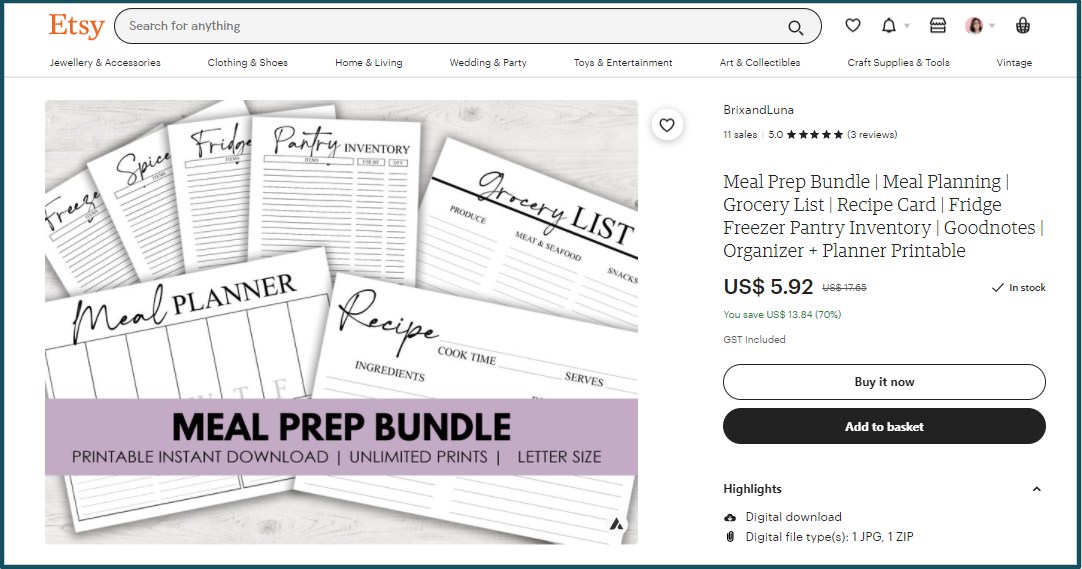 Stephy just listed this product a day before I wrote this article, so it's a very fresh listing and I hope this article will give a little boost to her listing.
1. Images:
Stephy has done a great job with her thumbnail image of the product.  It clearly shows what the product is and what's included in this Meal Prep Bundle. It's clearly mentioned that it's printable and can be instantly downloaded.  She has also mentioned the size and also mentioned the benefit of a printable product that it can be printed unlimited times.
Where it can be improved:
This listing can be drastically improved if Stephy added more images to the listing. She has not added other images than the main product image.
Etsy provides 10 image slots so that you can showcase your product from every angle and aspect to the potential buyer.
Stephy has 7 templates in this Meal Prep Bundle, so she can create literally 7 images of her product.  Two more images can be made for asking the visitors to give a like ♥ to the shop or listing.  Ask them to follow you on your social media if you have one.  so you can easily fill the 10 slots for images.
Also, I would recommend Stephy to add 7 number in her listing as the bundle includes 7 templates.  Though it is clearly visible but mention it as " 7 printable planners" or something like that, that will catch the buyers' attention instantly.  She has not mentioned it in the listing name nor in the tags also.  I will discuss it in a minute.
Use great mockups to create your images, checkout Smartmockups for free mockups for your products.
More images means more possible sales.  You will be surprised to know that as per the Etsy survey when people asked what makes them buy a particular product, 90% answers in favor of good product photos.  So having more images going to greatly benefit benenfit your listing.  So I would recommend Stephy add more images to this listing.
2. Add Product Video:
Today creating a video is so much easy.  If you are using Canva to create your printables, it's just a matter of a click.  Just download two or three images in an MP4 format and your product video is ready.
SEO Benefit:
Etsy has made it clear that they will promote the products that have added product videos.  So add a product video and get benefitted from the Etsy algorithm.
From the buyer's point of view also, it's a good option to add a product video.  As the buyer can only know your product through the images and video that you have added, it's better if you add one.
3. Product Title Name
I would highly recommend to all new Etsy sellers to describe their product name using relevant tags in a readable form.  I know most of the Etsy sellers use just tags in their product title name but it's not a good SEO practice and can harm your shop in the future if Etsy changes its policy anytime in the future.
Let's look at Stephy's product title name:
Meal Prep Bundle | Meal Planning | Grocery List | Recipe Card | Fridge Freezer Pantry Inventory | Goodnotes | Organizer + Planner Printable
As I said it's not a good SEO practice to just add tags and keywords in your product title name.  I assume "Meal Prep Bundle" is the keyword Stephy wants to rank as it appears first in her title.
SEO Tip: Always start your product title name with the keyword that you most likely want to rank for.
Now when you do your keyword research, always try to search it on Etsy Search Bar, because we want to rank the product on Etsy.
When I search on Etsy here's the result that I found: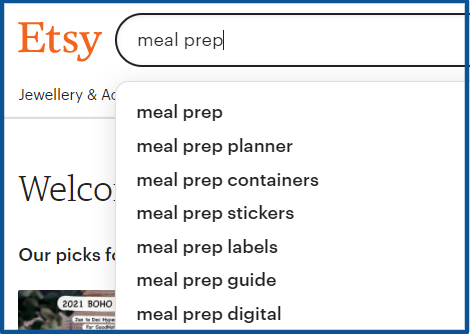 If you are familiar with keyword research, you know that when we type the particular word in the search bar it automatically shows the most popular words or most searched phrases on Etsy.
So when I was typing meal prep bundle, which was Stephy's keyword, you will notice that Etsy is not showing that particular phrase in the search, which simply means the buyer is using some other words or phrases for searching the product.
But does that mean meal prep bundle is not a good keyword, no it's a good keyword because it has only 195 results for this keyword.
whereas Meal Prep Planner has 3,492 results and Meal Prep Digital which has 1,261 results.  So it will definitely show your listing when people search the exact term Meal Prep Bundle and less likely when other terms.
SEO Tip: you should mix and match the terms that you will find on Etsy search as well as low-hanging keywords.
My Recommendation for Product Title:
Meal Prep Digital Planner Bundle – 7 Must-Have Organizer Printables for Grocery List, Recipe Card …and whatever you want to add.
Stephy has added few other keywords like Fridge Freezer Pantry Inventory | Goodnotes | Organizer + Planner Printable
now if you search on Etsy you will find no results for these keywords. Even when I typed the exact phrase Fridge Freezer Pantry, I found only 8 listings on the first page of Etsy using that phrase. So if typing the exact phrase if I found only 8 listings, it's clear that people are not searching that term.  For"Fridge Freese Pantry" sellers are using the keyword "Food Inventory" or "kitchen Inventory" "pantry Inventory". So avoid adding the keywords that people are not searching in the main product title.  Instead, you can use other keywords that are more relevant to your listing.
If you think that word or phrase is related to your product, use it in tags, because you have 13 tags.
now let's discuss tags!
Tags:
Now before discussing Tags in detail, I tried to search for the keyword "Meal Prep Bundle" on Etsy, and I found something very interesting.
I found a shop "CreativeJamCo" which has 2,628 reviews for the shop. I always try to find a shop that is doing best in the category.  So we can learn from them.
I also use Alura, erank, Craft Inspector, and Jaaxy to do my research. Jaaxy is not directly related to Etsy, but it's my fav. keyword research tool because it helps me to find many more details and it's best for finding new products or finding your niche if you want to start a shop.
so when I researched this shop, I found the tags they are using:
weekly meal planner, printable, meal planner, food diary, food journal, meal tracker, meal prep, meal plan, daily food diary, Diet Nutrition, wellness planner, colorful, meal planner bundle
if you are using Alura or erank, it's very easy to find the tags.  I am using the free version of both the software.
now let's find out what tags Stephy is using:
instant download,digital printable,printable,digital print,template,planner,organizer,meal prep,meal planning,meal prep template,weekly planner,food prep.
CreativeJam has used only 1 tag "printable" to describe their digital product, but Stephy has used 4 tags to describe the same thing.  CretiveJam is using the tags beautifully describing what their product is.
SEO Tip: Use the tags very carefully and research extensively on which tags should be used.  Don't waste your tags.
Now let me share the very fascinating thing that I found.  I searched for the same keyword "meal prep bundle" and it showed me more than 6 listings by CreativeJam, though they are not using the same keyword.
Their listing is on the 1st page because they are using the keyword "meal planner" which is suggested by Etsy when you search the term Meal planner.  So they are ranking for both the terms.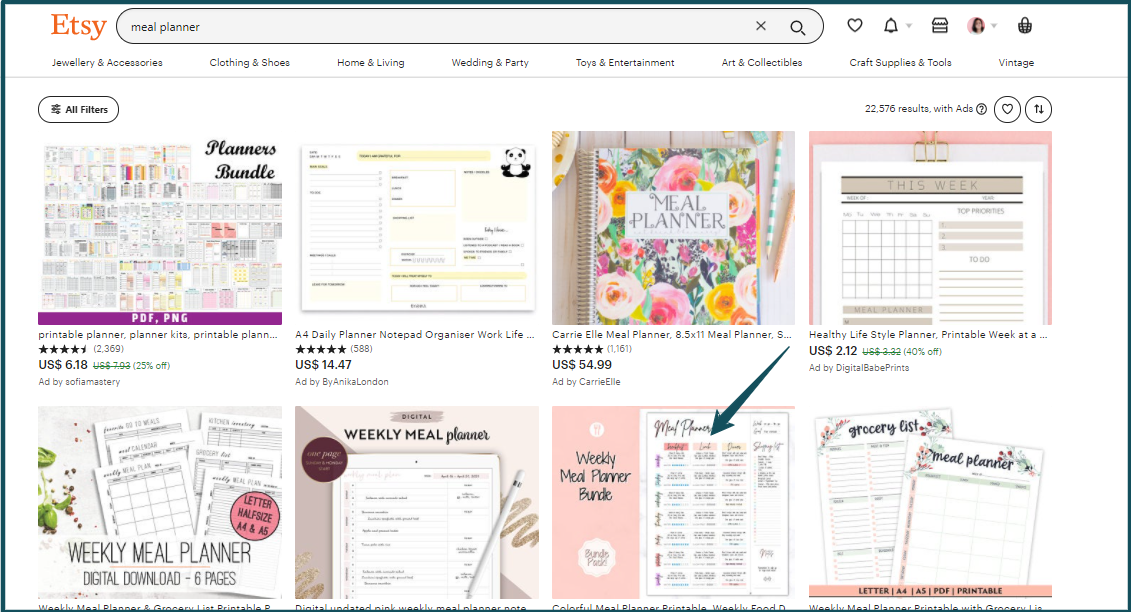 SEO Tip:  Do your research before creating your product title name.  This can really help your listings get more visibility and good rankings on Etsy.
Description:
A description is a place where you can explain your product in detail without any word limits.  So go ahead and write a good detailed description of your product.
Also, include all the details about the product so that the buyer will get a crystal clear idea of what the product is all about.
Sephy has done a great job with her description and I also liked she added her social profiles and offered a discount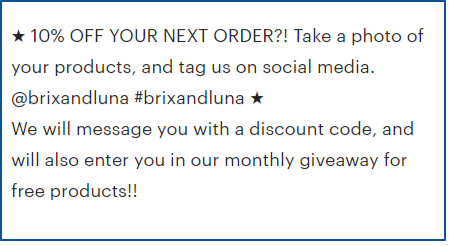 So Stephie is doing good in the description section, let's took a quick look at her shop.
Banner & Logo:
Banner & Logo are important for creating a brand for your business.  Many new Etsy sellers don't pay much attention to the banner and branding of their shop.
It looks very professional when you add a banner and logo to your shop, and you can create a professional banner & logo in Canva very easily.  They have templates for Etsy Banner, you just need to add your image and your shop name.  So don't avoid it.
Stephie has done a great job with her logo and banner, it's very trendy and cool. Her shop banner makes it very clear what her shop is all about.
Reviews:
Reviews are huge and it's great that Stephie has got some great reviews for her shop.  It definitely boosts your shop in Etsy rankings.
Also, ask your buyers to favorite your shop by giving a ♥ to your shop, it also increases shop rating on Etsy.
Few More Simple Tips to Stephy!
Stephy's banner shows the name Brix + Luna, whereas her logo shows Brix and luna, consistency matters in SEO.
Add popular products to Feature Listings, so that they always remain on top.  It's like pinning your most popular products.  You can easily do this by going to listings and clicking the star icon.  You can make upto 4 products as feature listings.
Make sections for your products.  Though at present you have only 5 products, you can make sections for "bundles" or "planners".
You have a "Request Order" if possible make a listing for Customised products like where you can customize the product.
List your business on Google My Business (GMB) and get more visibility.  Learn more  about GMB
Create a website for your printable business.  Never put all the eggs in one basket!
I know for many of you, creating a website is a daunting task, but believe me, it's not. I have my own 4 websites.  I know as a new Etsy seller, you might not want to invest in a website.  But what if I offer you a free website, free hosting, and basic training on how to set up your website and business. Having a website is a must today, want to know why you must have a website for your business?
What's more, you will have many blogs and training on SEO, that will help you rank not only on Etsy but on all other platforms like Google, Bing, Yahoo.
And if you stuck somewhere, I am here to help you.
I would highly appreciate it if you visit my Etsy shop cuteprintablestudio and give my shop a ♥, and let me know how do you like this shop critique of your shop. Also, let me know if I have missed something.
Thanks Very much.